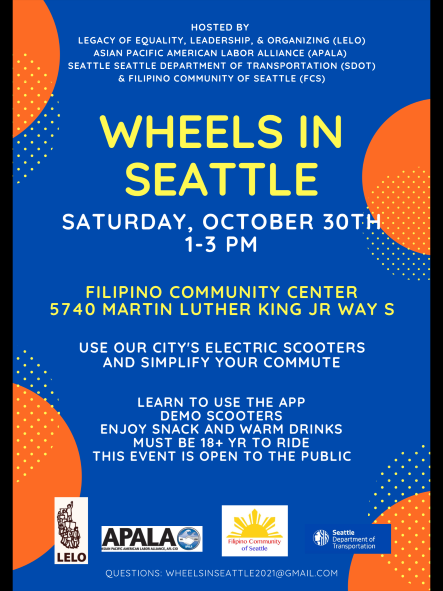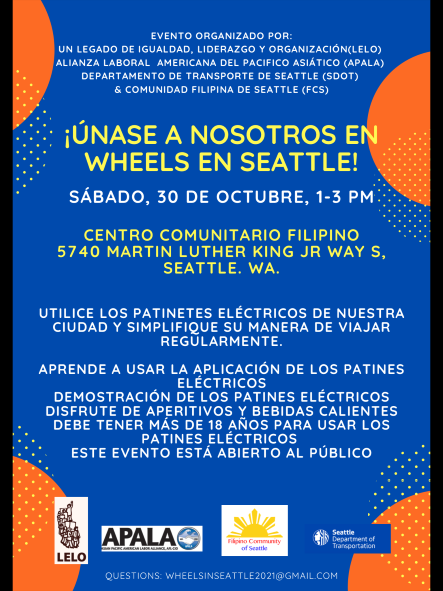 WHEELS in Seattle
Learn to Use the App
Demo scooters
Refreshments
Open to the Public
Saturday, 1-3 pm
October 30, 2021
Filipino Community Center
5740 Martin Luther King Jr. Way S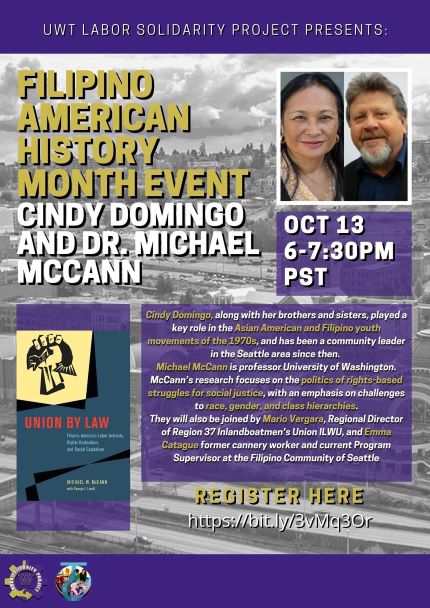 Labor Solidarity Project
Filipino American History Month
October is Filipino American History Month, and it is time to educate people about the history and contributions of Filipinos in the U.S.  Filipinos have been going to Alaska canneries for over 100 years and were crucial to unionizing this workforce along with agricultural workers. Cannery workers joined with other people of color to challenge the exploitation of racial capitalism.
Cindy Domingo, along with her brothers and sisters, played a key role in the Asian American and Filipino youth movements of the 1970s, and has been a community leader in the Seattle area since then.
Michael McCann is professor University of Washington. McCann's research focuses on the politics of rights-based struggles for social justice, with an emphasis on challenges to race, gender, and class hierarchies. His book – Union by Law: Filipino American Labor Activists, Rights Radicalism and Racial Capitalism – is a history and stories of Filipino American workers and activists.
They will also be joined by Mario Vergara, Regional Director of Region 37 Inlandboatmen's Union ILWU, and Emma Catague former cannery worker and current Program Supervisor at the Filipino Community of Seattle This was recorded on October 13th 2021.
This webinar is co-sponsored by LELO and Seattle APALA, UW Harry Bridges Center for Labor Studies, and UW Tacoma Labor Solidarity Project.
If you wish to join the UWT Labor Solidarity Project for future events hosted on zoom please sign up at their mailing list at the link below.
Intro music courtesy of Ben von Wildenhaus.
Thursday / October 13, 2021 6:00 PM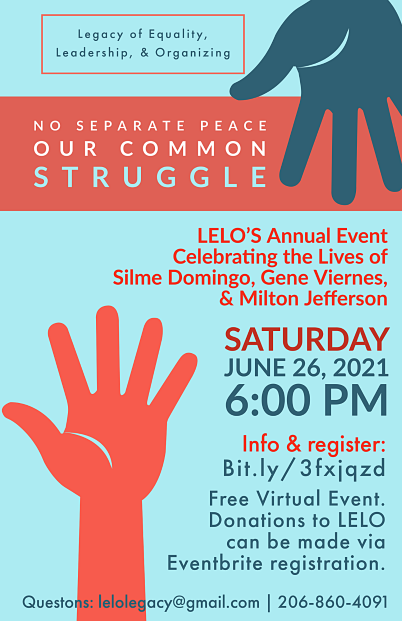 2021 LELO's Annual Event (Virtual)
Celebrating the Lives of Silme Domingo, Gene Viernes, & Milton Jefferson
Please join us for LELO's Annual event (virtual).  This year's event will be commemorating the 40th anniversary of Silme and Gene's assassinations by the Marcos regime.  Their work in bettering the lives of working people here in the US and abroad remains just as relevant today as it was 40 years ago.  The global pandemic has wreaked havoc domestically and all around the world.  We know that we share in "Our Common Struggle" and there is "No Separate Peace!"
Saturday / June 26, 2021 6:00 PM
Info & Register:  https://bit.ly/3fXjQZD
Free Virtual Event. Donations to LELO can be made via Eventbrite registration
Questions: lelolegacy@gmail.com | 206-860-4091
There Is No Separate Peace
LELO strives to empower low-income workers of color, recent immigrants and women workers to assert their rights, improve their working conditions and gain a voice in their workplaces, trade unions and communities in the U.S. and across the globe.
LELO's social change strategy is local organizing, with an emphasis on political education, and building solidarity networks with workers across all borders.
LELO has relaunched the FAST Jobs Coalition as Sound Transit moves into the surrounding counties to ensure accountability of this public entity to our communities.
For over 20 years, LELO staff has assisted people with suspended driver's license issues.  Currently, we assist those in the City of Seattle's construction trade priority hire program and court referrals.
The Tyree Scott International Worker-to-Worker Project was founded in 1997 to to communicate and build with each other an alternative system to capitalism that addresses the needs of workers and their families.
The Blue Corn Coop contributes to the transformation of our communities by providing healthy, affordable food while supporting a small farmer of color and his family.  Our vision of building community through this project includes the principles of shared ownership, democratic decision-making and shared experiences to build the food sovereignty movement.