There Is No Separate Peace
LELO strives to empower low-income workers of color, recent immigrants and women workers to assert their rights, improve their working conditions and gain a voice in their workplaces, trade unions and communities in the U.S. and across the globe.
LELO's social change strategy is local organizing, with an emphasis on political education, and building solidarity networks with workers across all borders.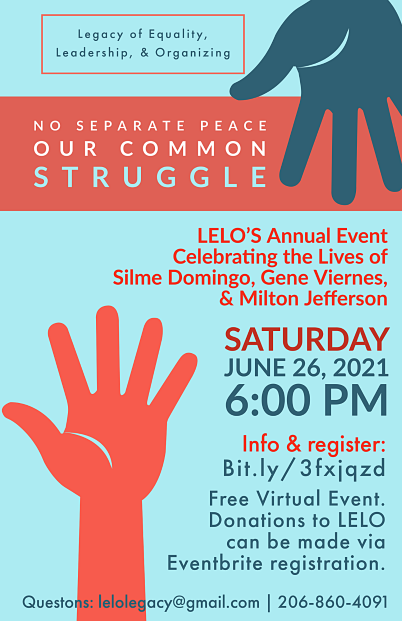 2021 LELO's Annual Event (Virtual)
Celebrating the Lives of Silme Domingo, Gene Viernes, & Milton Jefferson
Please join us for LELO's Annual event (virtual).  This year's event will be commemorating the 40th anniversary of Silme and Gene's assassinations by the Marcos regime.  Their work in bettering the lives of working people here in the US and abroad remains just as relevant today as it was 40 years ago.  The global pandemic has wreaked havoc domestically and all around the world.  We know that we share in "Our Common Struggle" and there is "No Separate Peace!"
Saturday / June 26, 2021 6:00 PM
Info & Register:  https://bit.ly/3fXjQZD
Free Virtual Event. Donations to LELO can be made via Eventbrite registration
Questions: lelolegacy@gmail.com | 206-860-4091
LELO has relaunched the FAST Jobs Coalition as Sound Transit moves into the surrounding counties to ensure accountability of this public entity to our communities.
For over 20 years, LELO staff has assisted people with suspended driver's license issues.  Currently, we assist those in the City of Seattle's construction trade priority hire program and court referrals.
The Tyree Scott International Worker-to-Worker Project was founded in 1997 to to communicate and build with each other an alternative system to capitalism that addresses the needs of workers and their families.
The Blue Corn Coop contributes to the transformation of our communities by providing healthy, affordable food while supporting a small farmer of color and his family.  Our vision of building community through this project includes the principles of shared ownership, democratic decision-making and shared experiences to build the food sovereignty movement.
Worker to Worker Solidarity
LELO's Annual Event Honoring Silme Domingo, Gene Viernes and Milton Jefferson
Every year LELO's remembers our history and co-founders who are no longer with us and recognizes current workers struggles and individuals who exemplify LELO's values and principles.  Our 2019 Domingo, Viernes, Jefferson Awardee was Rosalinda Guillen, long time farmworker organizer and Executive Director of the women-led organization, Community to Community.
The John Caughlan Award went to his granddaughter, Zaachila Orozco-McCormick, for her courageous work in No More Deaths, an organization that provides food, water and medical aide to people crossing the US-Mexico border through the Arizona desert.
Due to the COVID-19 health crisis, LELO's 2020 fundraising dinner – originally scheduled to be held on June 6, 2020 at the Brockey Center at South Seattle College – has been postponed.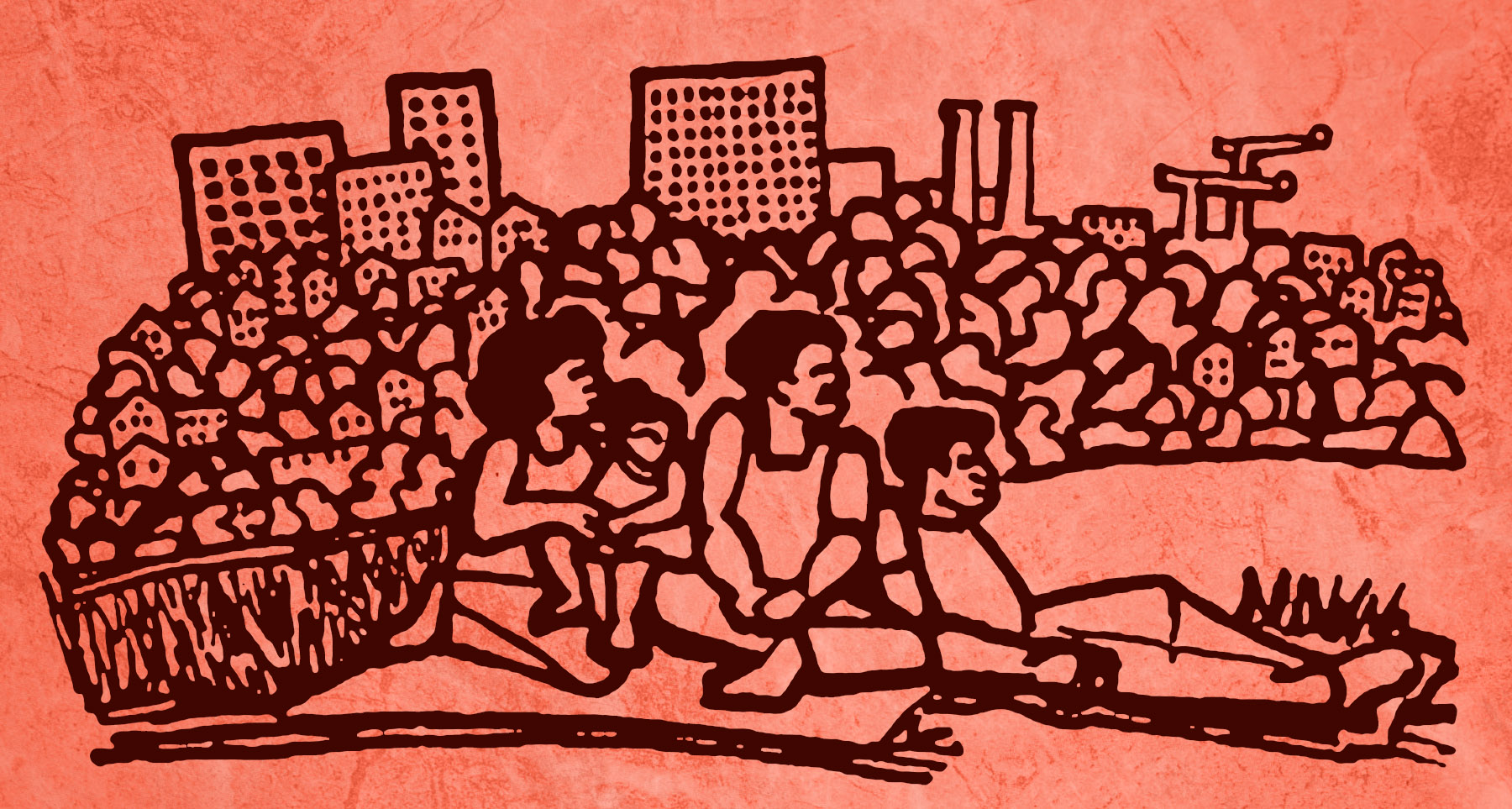 FIRS: The Community Fighting Gentrification In Sea-Tac
In 2016 60 families, mainly Latino, of 170 people and including 60 children, who lived together for over 20 years in the FIRS Mobile Park, were given eviction notices after the building of Sound Transit light rail to the Sea-Tac area in south King County.  Their community was to be destroyed to make way for a hotel that would serve the tourist industry and for near-by airport arrivals.  LELO has championed this community's human right for housing and honored them at LELO's annual dinner with the 2018 Domingo, Viernes and Jefferson Award.  Today, the Concerned Residents of FIRS continue to search for a home for their community and fight in the courts for the violation of their human rights.  For more information on this issue, please contact Ricardo at LELO.